Demystifying the Quilt Judging Process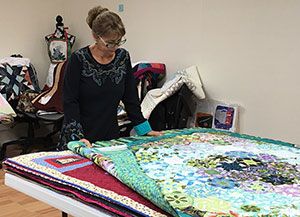 Some quilters are intimidated about entering and having their quilts judged in a quilt show. But fear not! Cindy explains the process in a way that is sure to leave you feeling more confident, knowledgeable, and excited to enter the next quilt show!
Some of the things Cindy covers in this lecture are design considerations, workmanship, quilting, embellishing, and finishing. She also goes over various categories that are common amongst quilt shows. Every topic is supported by photos and examples of quilts and their various aspects.
After seeing this lecture, you'll agree that the quilt judging room isn't so mysterious after all!
Fee: See Teaching Fees page.